Sieve support for KDE
by simon@josefsson.org
---
What is this?
This page contain information about a package that implement remote Sieve management for KDE (a "KIO slave").
If you do not know what Sieve or KDE is, I suggest using the following resources.
Note! If you use Emacs, you might want to be interested in my Emacs sieve package as well.
News
2002-05-01 Initial version committed to kdenonbeta and this page created.
2002-05-16 Setting active script now supported using "chmod".
Download
This package is developed in the kdenonbeta CVS module. To check out the kio_sieve directory, follow this (hit enter for the password):

$ cvs -d :pserver:anonymous@anoncvs.kde.org:/home/kde login
Logging in to :pserver:anonymous@anoncvs.kde.org:2401/home/kde
CVS password:
$ cvs -d :pserver:anonymous@anoncvs.kde.org:/home/kde co -l kdenonbeta
$ cd kdenonbeta
$ cvs co admin
$ cvs up -dP kio_sieve
...

KDE has more information on using and building from CVS.
You can browse the source using the KDE CVS Web.
Contact information
Redirect discussions to the kde-devel mailing list, see the KDE mailing list pages.
Documentation-By-Screenshots
Connect to the server (via e.g. bookmark) and enter credentials: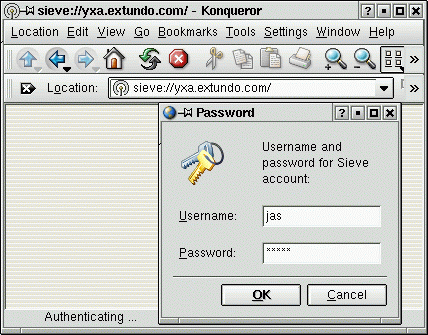 Server content displayed in Konqeuror (size indications not available, protocol doesn't support it):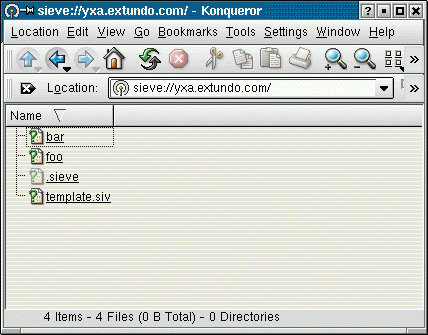 Clicking on one of the files invoke the KWrite application (unfortunately right now you need to enter your credentials again, and a separate connection is opened):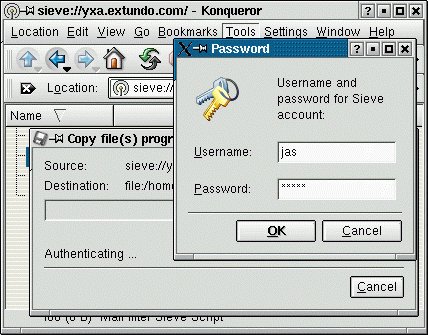 Edit the script in KWrite:
Quiting KWrite offers you to upload the script to the server: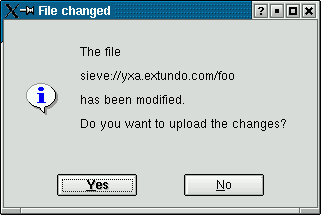 You may wonder about how to set the active script. It is currently set by chmod:ing the script you want to be active with the "x" unix mode bit. The server makes sure at most one script will have the "x" bit set.
---